I think I'm improving, after my long winter off racing.
I did Cressbrook Crawl last Saturday and was about 2 or 3 minutes down on where I think I could have been. Then on Wednesday night I did Rainow fell race. This race includes quite a bit of my lunchtime run when I go out from work, and includes the landmark White Nancy - an old summer house that is built on the summit of one of the Bollington hills. At Rainow, I was much closer to where I think I could have finished.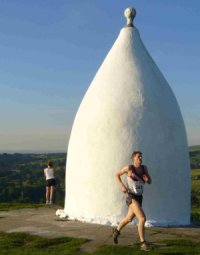 I have another chance to run past White Nancy today when I do Bollington Festival fell race. I'm hoping to beat my time from last year, but only because I got lost in last year's race.